January 2019. Where did the months go?
Devon was,as usual, both mild and scenic, and I took full advantage of every break in the weather to walk the beaches and estuaries and ponder the setting and plot of my next book- Ellen's Story. It will begin in West Cork, Drimoleague, like its sequel 'Long Road, Many Turnings' and then continue through the great Irish American emigration route to Ellis Island, Boston and Milwaukee. I've never been to Milwaukee but these Devon views are reminiscent of West Cork, so until I return there, soon I hope, I am taking inspiration!
Ellen's story will be enticing those who enjoyed ' Long Road, Many Turnings' as it revolves around the life and family of a young woman born in 1822, into an Irish speaking farming family whose life experiences had never crossed the county ( Cork) boundaries.
Ellen travels across the Atlantic before traversing through the United States from New York to Milwaukee, giving the reader a fascinating insight into the lives of people uprooted from their homeland and bravely making their own unique mark on the world.
Look out for updates over the coming months!
I had a great time in Belfast early December, where I was invited as keynote speaker, to attend the Nursing Research Conference.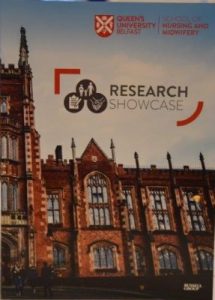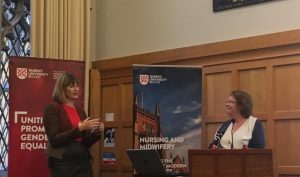 Meeting nurses from across Northern Ireland, including those supporting people who had been traumatised by the troubles www.wavetraumacentre.org.uk
as well as those who are now offering care overseas in areas of conflict was both humbling and fascinating.
I can't leave this section without noting how humbling and fascinating it is to know that people now consider me as history!
And now its October!
What a  great month, we've been travelling across the British Isles. First from Devon up to Hawkeshead in the Lake District, then over to Northern Ireland for a wedding and then on to West Cork, in Republic of Ireland. My next book will be set in the area, such a beautiful place! Here I am on Sherkin Island, just off Baltimore ( the original one in West Cork, not that lesser known place in USA!)
But before West Cork, there was my book launch.. 'Time for a Change', a novel, set against the backdrop of nursing in Northern Ireland during 'the troubles'. I was such a person, but of course the book bears no resemblance to any of the nurses who started training in 1968 ( and the events are fictitious too,  especially the bits Margaret Graham described as 'a romp'!)
Waterstones in Belfast. Such a  great venue, a lovely events team and great attendance from those I knew well to those I had never met before ( as far afield as Canada and as close to home as Belfast!)  Lots of great questions followed my presentation, and a stunning introduction by Margaret Graham, Editor of 'Northern Ireland Nurses Voices' set the scene.
It certainly raised the profile of nurses in a certain well known City hospital and there was much glee when  Margaret told the audience that 'the nurses of Belfast had been given the freedom of the city'. Ironic glee, as we had had great difficulty in getting out at all when we were in training!!
Here we are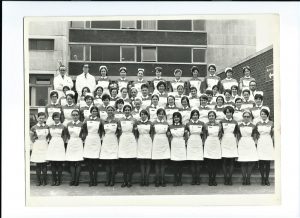 .. as we were then
Wow! The hot dry month of July brought so much fun!
Although we grumbled at times about the heat it was an amazing opportunity to avoid doing those chores which never seem to end. So there was nothing domestic and everything literary taking place!
Walks and thoughts along the beautiful South Hams, sea swims.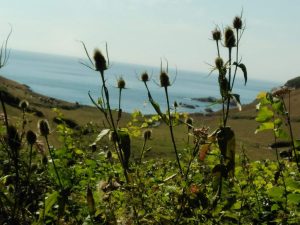 And the occasional little strawberry ginsecco! If you haven't had one this summer, I don't think you can have fully appreciated the season!
Here 'tis:
One large measure of a strawberry flavour gin( or pink, depending on your brand and thus your pocket)
Half a glass of Prosecco
Top up with lemonade or tonic water and ice cubes. Decorate with strawberries and there's at least one of your five a day!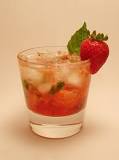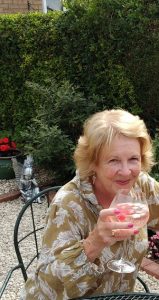 Then there was some breath holding for a couple of weeks, waiting to hear what readers thought about 'Time for a Change', and a  breathe out when they began to filter through.
 I enjoyed this book very much. Like the best historical fiction, this has woven a tapestry of threads of fact and fiction which is totally credible. The events which form the backdrop of the story took place half a lifetime ago, and as an outsider I was jolted into trying to imagine what real life was like for ordinary civilians during 'The Troubles'.  The central character, Theresa is totally believable and could easily have been someone I used to know.  Early in the book she displays all the insecurities, jealousies and naivety of a young adult growing up in a society of restrictive social norms. At one point when she was struggling with her love-life I became so absorbed,I wanted to grab her by the shoulders and give her a good shake. As time passes and she loses touch with her friends I wanted to know more about what happened to them. But that's what happens in life doesn't it? Well, it did in the days before social media. This book is not nostalgic, it does not dwell on sentimental rose-coloured memories. Nonetheless we warm to Teresa and are with her in the twists (and there are twists) and turns of her life. It's a little masterpiece.
John Curry, Plymouth Writers Group.
I think this is a terrific book and I thoroughly enjoyed it.
One note I made, as I went along, was: "All the beauty of authenticity and no seams showing."
It is beautifully written, with such a vivid evocation of Northern Ireland and 'The Troubles' during Teresa's McCann's nurse training and subsequent practice – not just the tension in the cities of Belfast and 'Derry, but also the peace and beauty of Castlerock and the Atlantic Causeway Coast.
To portray so deftly the history of these times and these communities through the personal story of Nurse McCann is a wonderful achievement. Charlie Becker, Amazon Reviewer.
This book took me straight back to my university years and early years of marriage. Mary manages to capture the essence of the times- clothes, music, household equipment, social attitudes. At the time, I was aware of The Troubles but as something that I read about in the newspaper. Mary's book makes the events happen to real three dimensional people, with no clear distinctions about who was right or wrong. The characters are human/frail/ strong as the situations unfold and this makes the reader identify with them.
Mary makes very clever use of newspaper photographs of the time. They are woven into the story and give historical accuracy and clarity to a book which is essentially fiction. Jill Cooper, Amazon Reviewer.
Then, quite out of the blue, I was contacted by Queens University in Belfast and invited to give the opening presentation at their research conference, to talk about my book.Such an exciting invitation I readily accepted!
More about that in December.

Before the month finished, I managed to join Devon Book Club,… which is an amazing source of book-lovers information. It is part of the good reads network, and is described as : For book lovers of all kinds who live in, work in or just love Devon and want to be part of this community. ..
I'm looking forward to enjoying some great on-line conversations…
Meanwhile back in Plymouth there were the most amazing fireworks last night, which brings me to a sparkling finish… who knew what a brilliant summer this would be? I hope yours was too.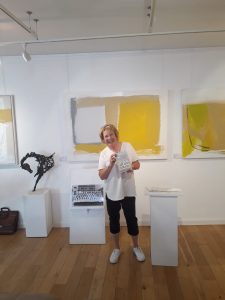 June was an exciting month, participating in the Sidmouth Literary Festival on 23rd., Brownston Gallery Modbury launch of my new book 'Time for a Change'  on 27th., and then the Ivybridge Library hosting a signing and discussion session on 31st.
I'm so grateful to Jane Corry, best selling author of 'My Husband's Wife' and ' Blood Sisters' for inviting me to the Sidmouth event.
We shared a Q&A session with publishers and agents, as well as the managing director of Matador, the company which publishes my books. It was great fun and a very well attended event.
Jane's latest book 'The Dead Ex' is out now, I'm sure it will be as full of twists and turns as the ones I have already enjoyed! Can't wait to read it.
The Brownston Gallery launch resulted in a  full house, with lots of bubbly, some fabulous music from Clive Saunders, and a stunning introduction from Cath Gillen, the gallery owner.
My book 'Time for a Change' generated lots of interest as well as lots of sales and I really appreciated the support from friends, family, neighbours and other writers.
The Ivybridge library event was smaller, but well promoted by Lynne, the head Librarian, it was an opportunity to talk with other authors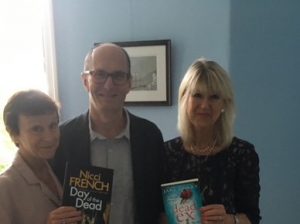 and writers about how-it-was-done.
Judi Spiers and Jane CorryMe at Kenilworth House, Sidmouth. A super venue for the Literary Festival.
With Karl, the manager at Winstones Independent Bookshop, sponsors of the Festival in Sidmouth.
Brownston Gallery, Modbury. A glorious venue for a book launch!