This document is a direct transcript of a travelogue which was amongst my uncle Billy's possessions and given to our family posthumously. I have edited, annotated and added web links to create an interactive document and memoir. Where you, the reader, see text in red and underscored you can hover your cursor over and a URL should appear, or try a right click if this doesnt happen!! This is a link to an internet source, it is either music or information and pictures relating to the topic Billy is writing about. I have not sought copyright permission as this is not a commercial venture, but I acknowledge iTunes as the source of the music. Please send me feedback( especially where I can improve/amend/edit) Thankyou, Mary.
My Trip, by Billy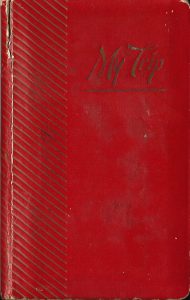 "Stranger on the Shore " listen to one of Billys favourite melodies here. do feel free to skip the ads!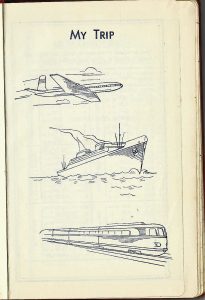 I was ten years old when my Uncle Billy left England for America. I was not aware of his departure, my life was too bound up by the trials of young girlhood, and in my case they were many.
We, that is my sister and brother, both younger than me and therefore a considerable responsibility, lived with my parents in a terraced house in Risingholme Road, Harrow Wealdstone, just on the outskirts of London.
At the time this travel journal began he was twenty-six, and we understand he was a qualified architect. His appreciation of building design is evident from
the many references contained within his writing, although at times he definitely seems more excited by jazz than architecture.
Billy lived, as far as I recall, with his widowed mother, our grandmother, in a top floor flat in Oxford Road, Kilburn. I believe he was born in that flat and had never lived anywhere else until he left for America. My mother and her sister completed their small family and in numerous photos they look like a close-knit bunch.
He had had a 'steady girlfriend' for many years. Her name was Mel and we all met her, she was a regular visitor. But he broke up with her shortly before he left for America. I mention these facts because surprisingly, there is no mention of either his home, family or ex-girlfriend in his journal, and for such a warm-hearted man I find that strange.
And he was warm-hearted. A favourite uncle who always treated us like grown-ups. People often describe favourite uncles as those who were fun or encouraged you to be naughty or who gave you money. Billy did none of those things (although the money did come later when he was settled in America).
He talked to us as though we were adults, too much so sometimes. I remember one year, my sister and I being given nylon petticoats for Christmas with little scooped out cups where a budding beast might nestle. We had no such buddings but filled the cups with tissue paper and proudly paraded our new found femininity before the family. Mum was shocked, Aunty Bina laughed, and Billy just said he thought the boys would be very impressed and that we looked lovely. I remember Mum muttering grievances about that for some time, although she never said a word to Billy.
Of course, there are memories of much later when he came back from America on holiday. Always an exciting treat, he would pick us up from school – the strict convent grammar school by then – and take us to the Chinese restaurant or Morelli's cafe.
Mum adored him. Her baby brother, he could do no wrong, and his opinions where always received as the most considered fact: 'Billy doesn't think he will marry an American girl, they are all gold diggers' or 'Billy thinks American food isn't a patch on our home cooking' or, the most optimistic illusion 'Billy would come back to live in London in a flash, America is too brash and busy. We'll see him back in Oxford Road with Mum before long.'
So this is a memorial to our much-loved uncle. He left no children of his own, no spouse or other next of kin, and our family hope his adventures will not be forgotten.
Mary McClarey.
January 2019.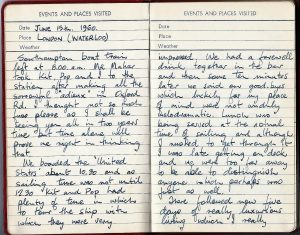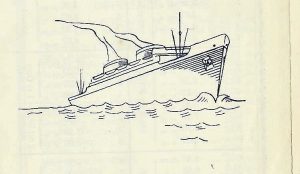 W.M.Whittle
June 15 1960
London, Waterloo
Southampton boat train left at 8.00 am Mr Maher took Kit, Pop and I to the station after making all the sorrowful 'adieux' in Oxford Road. I thought not so much fuss please as I shall be seeing you all in two years time but time alone will prove me right in thinking that.
We boarded the 'United States' about 10.30 and, as sailing time was not until 12.30, Kit and Pop had plenty of time in which to tour the ship with which they were very impressed. We had a farewell drink together in the bar and then some ten minutes later we said our goodbyes which luckily for my peace of mind were not unduly melodramatic. Lunch was being served at the actual time of sailing and although I rushed to get through it I was late getting on deck and we were too far away to be able to distinguish anyone which perhaps was just as well.
There followed now five days of really luxurious living which I really enjoyed to the full as I had a shrewd suspicion that life would not be nearly so luxurious on the other side of this pond.
The weather I thought was moderate although obviously other people thought otherwise as they were being sick all over the place. I got to know quite a few interesting characters during these days making most of my acquaintances in the bar obviously enough. I shared a cabin with one hell of a comedian by the name of Morris Siederfeld who was something in the oil business though apparently there was no reason why he should work as he appeared to be loaded. I intend to look this chap up when I New York as he probably knows all the right places and people. Most of my time on board was spent in the company of a young English chap named Guy Bielby who was going to Westport Conn. On a farming job. Having similar interests to myself namely wine, women and song, we got along well.
This is another person with whom I shall perhaps get in touch when on the other side. And so it came about that on June 20th very excited, if somewhat apprehensive, that we sailed into view of the statue of Liberty, Staten Island, Ellis Island and then the fabulous Manhattan Skyline to dock at Pier 83 on the Hudson river on New York's west side.
Uncle Sam here we come!
After clearing through Customs and Immigration it was probably around 10.30 or 11.00 pm. before I was cleared to set foot on American soil to be greeted by a rather irate Paddy Colgan who had been waiting since 8.00a.m. He looked well enough and was highly amused at my obvious bewilderment as the noise, garish colours, humid heat and general turmoil were quite something after five peaceful days at sea.
We then collected my baggage and set out for the Bronx where Paddy and sisters were staying. During the trip, he was trying to point out various places of interest and how to tackle the New York subway etc. However, I think most of it went out one ear as fast as it went in the other as I really didn't know whether I was on my head or my feet as everything seemed to be happening so fast.
Arriving in the Bronx we went on to E 198th St where Paddy had secured a room for me with a Mrs O'Hara, an Irishwoman who later showed herself to be a real shrew, but no matter, though the room was rather unimpressive it was O.K. just for a short while until I got on my feet. Paddy and the girls lived just two houses away where they had a pleasant little apartment. As Paddy was working during the evenings I would see him for most of the day and then leave the house with him when he went to the office which was about 4 o'clock and then return to 'the ranch' about 8 or 9 o'clock spending the rest of the evening getting to know the girls – Marie and Eileen.
During the late afternoon and early evening, I would wander more or less aimlessly through Manhattan looking at everything I could from the Empire State Building down to the most lowly drug store.
Lower Broadway looking north was most awe-inspiring in the early evening when the sun had sunk behind the office blocks making them look dark masses of masonry towering upwards and seemingly inwards until they met the sky. Times Square, of course, was at night just as expected – a mass of multi-coloured neon-lit advertisements with one unique one for Camel cigarettes where from the open mouth of a gigantic man's face came great realistic smoke-rings. This really is the hub of New York and the centre of the nightlife though certainly not one of New York's nicest spots understandably, as one would say Leicester Sq. In London had much to offer in the way of scenic beauty.
New York is a city of many faces all of which I hope to see in time.
After some two weeks of living in the Bronx we found a reasonable apartment on West 88th St. Situated just half a block from Central Park West, which runs alongside the park and is one of the most fashionable streets in the city. Unfortunately, the streets which run off it such as 88th St are not in the same class. The property is old and in its day most probably was very nice. All the houses are now let out into apartments and tenanted by every nation under the sun.
For the most part they seem pretty nice and quiet but there are always exceptions. For all we know the neighbours who also hold this view probably think that we are among the exceptions.
One of my first trips outside of New York was a one-day trip out to a picnic spot on the Connecticut coast called Shepherd's Island. Paddy and I went there with the youth group of the Knights of St Columbanus. Just ate, drank, swam and played baseball etc. All day and enjoyed ourselves pretty much. The countryside en route was very pleasant as, I am told, the majority of the Connecticut scenery is.
Pretty soon after this I decided it was about time I started working for a living so after visiting a few offices I took a position with a firm of consultants called Severud-Elstad-Kruegar Assocs. at 45 Lexington Ave. My starting salary was $100 (£35) a week, which was a little less than had been offered elsewhere but the type of work here appealed to me more.
I tried, am still trying, to see as much of the New York nightlife as I possibly could, but without an abundance of money, this is difficult.
I managed to get around to a number of the better –known jazz clubs and saw some of the big names of jazz though disappointingly they kept the music rather restrained. This was because some of these clubs are something in the nature of night-clubs where very sophisticated-looking people were dining. Thinking about it, I suppose fifteen rousing choruses of How High the Moon, by Gillespie is not the sort of thing to be enjoyed at the same time as caviar. I shall probably find my perfect jazz haunt before long. The downtown cinemas are very pleasant and extremely comfortable as they are all air-conditioned etc. But this, of course, makes them expensive and to see a film at one of these is usually about $2.50 (21/=) so to take a girl is not exactly cheap. Eating out is extremely pleasant as the variety of restaurants is fantastic. Once again this is another big expense as a good dinner will be at least $2.50-$3.00(21/= to25/=) but is well worth the expense if done occasionally. The city, of course, abounds with bars from the slummy to the very plush. These remain open until 4 a.m. but not too much enjoyment can be gained from many of these apart from the enjoyment of drinking because not many of them seem to have much character or atmosphere unlike the old English pub. You just go into most of them and sit on a bar stool with everyone else just facing the bar+ the rows of bottles beyond. One good custom here in the bars, though one which is not universally used, is to give you every third beer on the house. The price of the beer which incidentally is pretty lousy varies from 15c ( 1/=) in the very lowly bars to about 1$ ( 7/=)in the clubs and places.
My first weekend trip was to Belmar, New Jersey for the 4th July weekend.
I went with Paddy & sisters, cousin Paddy & a variety of American chicks some of them resembling in their ways men not women. This was really, really, a wild place being used at holiday times just by young folk whose only thought was to have a whale of a time, an idea which I couldn't like more. We stayed in a place called McGills, though how they tolerated the bunch of us for more than one night is difficult to understand for the place was like bedlam from night till morn with nobody knowing who the hell was sleeping in whose bed. Some of the time you were very lucky if you had a bed to sleep in at all and then you probably shared it with two or three others of one species or another. The big nightspot was called Dudleys where virtually everyone seemed to go to let their hair down. It was a large bar with room for dancing, the music being supplied by a mediocre rock 'n roll outfit who every night attempted to blast the roof off the joint. Everybody had one hell of a time in there though as nobody seemed to care what the devil you did so you drank and raised hell until you got thrown out or collapsed in the corner. A weekend was probably enough as it took a week or two to recover. Our next out of town trip was a hitch-hiking weekend. Our idea was to go up New York State as far as the Catskill Mountains which are about 100 miles north of N.Y.C. we began our journey by taking a bus out to Paramus N.J. where we got onto the Garden State Parkway which connects further up with the New York State Tramway, leading almost directly north. We got a couple of lifts as far as the N.Y.S. tramway, where we were picked up by a chap who was going north but rather westerly, to Monticello in fact. This was not directly on our intended route but as he was going all that way, we had to accept his offer. He was the manager of a restaurant on Lower Broadway by the name of Bradds. He was quite a character if somewhat course and managed to give us quite a few laughs.
Upon reaching Monticello we attempted to go further north but were unable to get lifts of any distance so we wound up spending the night in Montecello. Our choice of entertainment was obvious, a tour of the local bars. They all seemed pretty routine until we hit one called the Golden Nugget which was a riot. The barman had the voice of a person who had been on a strict diet of raw alcohol since birth and since he was drinking 90% proof vodka all night he very probably had. When this Sachmo-throated individual discovered we were English he threw quite a few beers our way as it seemed from what we could translate that the 8th army had got his company out of a tight spot in the Libyan desert. The rest of the clientele were an assorted bunch of bums, panhandlers and winos who soon proceeded to ply their hard luck tales to us but to no avail. Seeing this they were driven to bargaining among themselves for the price of a beer. We thought the negotiation had reached a climax when one sold his coat to another for a beer but no, for when he had finished this beer he disappeared out the door only to promptly re-appear with an electric iron which he flogged for another beer. I laughed like hell at this especially when I thought that even old Colgan couldn't beat that for addiction. All in all it was a very pleasant evening as later on we met a couple of very entertaining chicks. Next day during the late afternoon we set out to return to the smoke. We got on the main road and mainly thumbed many cars before one stopped and then lo and behold who should it be but the chap who took us up!
My next out of town trip apart from the odd day at the beach was to Niagara. One of the day trips to the beach though was to Coney Island, which deserves mention. It can be reached by the New York subway and is in fact to New York what Southend is to London though a lot nearer to the city. To stand on the promenade at Coney on a hot afternoon and look along the beach is quite a sight. For one thing, it is almost impossible to see a grain of sand so packed is the beach and for another it is difficult to spot a white person on it. There are all types and sizes of coloured people and in modes of dress impossible to describe in their variety. The rest of Coney is just one large fairground with all the usual amusements plus a few strange ones. Food and drink stalls are there in their thousands and the smell on a hot day is fantastic. The main snacks being sold are pizza, hot-dogs and knishes (a Jewish potato cake type of thing) all of which I tried no doubt. My trip to Niagara was a terrific experience and will no doubt be one of the high-lights of my whole visit to this country. I made this trip over the weekend including Independence Day to give me three days. This was mid-September and the weather was beautiful the whole time. I travelled up on Friday night by Greyhound bus departing from W.34thSt. terminal at 11.30 p.m. The route taken was straight up the N.Y. State throughway passing through Syracuse Utica and Buffalo. We arrived in Buffalo at about 7.30 a.m. where I changed buses for Niagara. These Greyhound buses are pretty comfortable with pillows and reclining seats etc. But sleep is still virtually impossible. I finally arrived in the town of Niagara about 8.30 a.m. and finally secured a room in a pleasant house a little to the back of the town. During the trip, I had met quite a pleasant character named Ed Howell who was a trade union official of some sort and was coming to Niagara on business. He came along and stayed with me at the same place. We toured around town all day seeing the sights but I shall write no details of these, or more specifically the falls for my photos are sufficient description. I managed to see something of the surrounding Ontario countryside and very nice it was too. It's very strange to think of peach trees blooming in Canada but that's the way it was. From seeing just this small section of Canada I could see that a lengthy trip to Canada could be well justified. Perhaps someday I may be able to manage it. So now with my very interesting weekend over, I grabbed the bus back to the 'smoke'. This was my last trip out of town during the summer apart from hops to the odd beach. Now with autumn upon us and winter approaching my entertainment will be gleaned mostly from the city but as it offers such a variety of that no monotony should exist. From autumn until Christmas was spent, from the social point of view, in hopping off to theatres, parties etc. Or trying out new restaurants, jazz clubs etc. Either alone or with various females. The only big break in this pattern was the arrival of Kevin Spring who spent a few days with us on his way home to New Zealand. During his stay, I tried to show him as much of the town as I could this being made a bit unpleasant as at this time New York was virtually snowbound. His visit terminated with our throwing a party at our flat which I think was a pretty good one though for obvious reasons much of it escapes my memory. He left N.Y. on Sunday Dec.18th at 6.30pm having enjoyed his stay with us but being rather unimpressed with New York I think. I was sorry to see him disappearing off to the other side of the world as we have had some great times together during our time in London. I hope our paths cross again sometime in the future. Christmas was spent pretty quietly at Marie and Eileen's flat with hops to various other peoples places. This was probably the quietest Christmas I had ever spent but quite nice nevertheless.
For the New Year's weekend which was of three days duration Guy Bielby and I went up to New Hampshire to a place called Franconia to spend a skiing weekend. This was about 400 miles from N.Y. and really was the most beautiful part of the country. It is very mountainous and when the countryside is covered with snow as it was on this particular weekend it really is a picture The whole of this part of the country is dotted with towns bearing the names of English towns and the inhabitants strangely enough still speak more like Devonshire farmers than Americans. They seemed a very reserved people not liking strangers very much and being polite only for tourist trade reasons.
This was my first attempt at skiing but from this sample I sincerely hope it will not be my last. The drive up and back was a very pleasant one being made in Guy's boss's Cadillac which we were lucky enough to get for the weekend.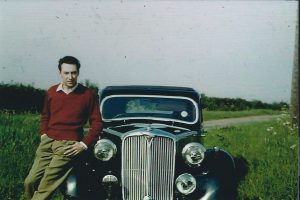 Two weeks later Guy and I took another skiing trip, just for a regular weekend, this time to the Bellayre Mountain in New York State and though situated quite nicely it was nothing compared to New Hampshire. The skiing was good though very crowded.
New York City at this time had some terrific snowfalls and for a while it looked as though the city would really close up. On the side streets, there was a depth of snow about 18ins. And in the suburbs much more. I doubt that I should see more snow than this anywhere assuming that I don't take a sudden notion to visit Alaska.
About this time ( March '61) I began to make plans for my trip to California, which I intended to make at the end of March. My preliminary plans were to arrive at San Francisco by way of Washington, Miami & the other Florida resort spots, the Bahamas, New Orleans, Mexico, El Paso, Las Vegas & so to Frisco but as the time of my intended departure drew closer, a change of plans was made. The reason for this change was the fact that my leaving Severud's office at this time would have left them in rather a bad way from the staff point of view so I put back my departure date to the end of May. This will in no way interfere with my trip prior to arriving in San Francisco for it just means the whole thing is moved back two months. For these two months I lived in the Hotel Peter Styvesant on Central Park West at 86th St. At the firm's expense. My reason for this was the fact that Paddy and I had already let our flat and this could not be altered.
Paddy now took a room in the Bronx situated pretty near the girls flat where his parents were staying. They had arrived from England in March and they are hoping to occupy a flat in Mount Vernon by mid-April.
My social activities during these weeks were dedicated mostly to the theatre, nightclubs and restaurants as I was trying to get to see all the best nightspots before leaving N.Y.as I don't know that I shall ever return. The more spots I hit the more it makes me think I could remain here for about another year and still not cover all the territory worth covering. It goes without saying that right now, by doing so much town painting , I am probably spending just about everything I earn but I can think of nothing that worries me less so what the hell!
My very last week in N.Y. was spent in saying goodbye in various ways, mostly at small dinner parties given by friends from the office. I have made some excellent friends while in New York and should I ever return I would undoubtedly be given quite a warm welcome, which is always a nice thought. I managed to leave Severnd's on the best of terms and I am sure a job would be offered to me should I return which is highly unlikely.On Tuesday morning May 30th I left N.Y. by greyhound bus arriving in Washington D.C. at about 4 p.m. I took a hotel for just one night and during the remaining part of the evening and all of the next day, I proceeded to see as much as possible of the capital.
Washington is really an impressive city as indeed it should be. All the federal, congress and various governmental buildings & monuments are elegant & graceful being finished almost exclusively in white stone and in settings beautifully landscaped. No regard appeared to have been given to restriction of space for the monuments & their landscaping so the net result was indeed impressive. I managed to visit the Lincoln, Jefferson & Washington memorials, the White House, National Art Gallery, Smithsonian Institute, Congress Building and Library. Unfortunately, I did not have enough time to view the inside of the White House or the congressional buildings. A longer stay would have been justified but I had a long journey ahead and could not really afford to stay. At approx midnight May 31, I left Washington D.C.by greyhound bus bound for Miami Florida. Some of the towns passed through were Richmond Va. Raleigh N.C. Charleston S.C. Savannah Ga. Jacksonville Fla. & then all down the Atlantic coast of Florida. I was surprised to see that by as little far south as Richmond Va. the segregation business was imposed by having separate waiting & rest rooms at the bus terminals. The coloured people were not entirely separated from their 'great white fathers' while on the bus but they always occupied the rear seats only, presumably by tradition. In the Carolinas and Georgia much poverty could be seen, the coloured people living in wooden shacks and eking out some sort of existence from their small plots of land. The white folk seemed to have pretty decent brick or stone houses but whether the majority of them got their living from the land also was pretty impossible to see. Some of the Southern towns like Savannah, G. were charming with most of the houses being of wood & of the large rambling colonial type. The streets were very wide& almost all of them were lined with lovely huge trees giving continuous shade. As soon as Georgia was passed through and Florida entered, quite a difference was noticed. Firstly, the countryside took on a distinctly tropical aspect & secondly everything looked so prosperous. It was not long before the palm trees showed themselves & then I felt I was really getting somewhere. Most of the journey through Florida took place by night and I arrived in Miami at about 6a.m.June 2nd. I grabbed a taxi out to Miami Beach after breakfast and booked in a small pleasant hotel right on the beach. I remained there until June 7th spending a very enjoyable five days, managing to do quite a bit of sightseeing including the Everglades, Indian Village and Fort Lauderdale. This trip was made by boat, passing many of the millionaire's villas that abound hereabouts. The cost of them is anything up to two or three thousand dollars which seems ridiculous lovely though they may be. Miami is, generally speaking just as one expects it, sun, sand, palm trees and hundreds of hotels, motels and restaurants. Some of these hotels are lovely structures being erected completely without regard to cost. The only thing that spoils Miami is that it is terribly commercial and somewhat brassy. At this time of year it was fairly quiet. In mid-winter when the season is at its height I do not think I would care to come here. It its sun& sand& luxury that anyone is after I'm sure there are a lot pleasanter places in many respects.
On June 8th I left for Tampa, Fla. To spend just one night there in order to visit the famous Cypress Gardens where they stage a wonderful water-ski show. The gardens themselves are out of this world and I leave it to my colour slides for elaboration on this.We cant find Billys slides but here is one of his photos taken around that time After my visit to the Cypress Gardens, there was really no reason to stay any longer in Tampa, so at 6.30 a.m I took the New Orleans bus. We finally arrived in N.O. just after midnight of the same day passing through Tallahassee (the capital city of Florida) Pensacola and Mobile Ala. This was now Friday night June 9th and it appeared that New Orleans was getting into the weekend spirit for the joint was really jumping. As I walked from the bus depot to the hotel, along Canal Street ( New Orleans main drag) all the honky-tonk dives were going at it full blast with Dixieland jazz bands and striptease shows and sometimes a combination of the two, very much in evidence. After being cooped up in a bus seat for some 18 hours I was greatly tempted to really go on the town but being pretty tired & dirty, did not do so.
My stay in the Crescent City or the Paris of America lasted four days during which time I managed to do a good deal of sightseeing. Unfortunately, it rained every day, sometimes for quite long periods and this necessitated my taking refuge quite often but this presented no problem whatsoever since the number of very interesting little bars was fantastic. I thought at the time that I would have been in quite a state if it ever rained all day. Most interesting part of the city of New Orleans is the French Quarter or Vieux Carre as it is called. This is the original city and dates right back to the 1700' when the city was occupied and administered by the French and then later the Spanish settlers. Many of the buildings are originals and in a very good state of preservation. Almost all of them have balconies with beautiful wrought iron railings almost lace like in design These balconies have masses of shrubs and potted plants on them and compete with each other in their eye-catching appeal. The patios of these houses, many of which are now restaurants, antique and curio shops and art galleries, were also very well landscaped with all varieties of semi-tropical flowers and shrubs. This type of environment would appeal of course to the artist and they were here in very great numbers. Some were here merely to paint or sketch for their own enjoyment but the majority were there for commercial purposes. They would paint your portrait while either sitting on the sidewalk or inside in their studios. The usual fee seemed to be about $5 and I must say some of the results were very good. All in all this part of the city was not unlike Greenwich Village in New York only more authentic in its architecture and atmosphere.
Visiting New Orleans was a big thrill for me due to it being almost the birthplace of jazz. The names of many of the streets e.g. Bourbon St., Canal St.,Beal St., Basin St. were known to me having been featured, so to speak, in many pieces of jazz writing. The main street from the point of view of 'action' was Bourbon Street and there certainly as plenty of that. From one end of the street to the other, a distance of about a quarter of a mile, it was just one strip tease show bar, clip joint, smoky bar with or without jazz, piled on top of and/or underneath each other. All these strip joints & bars had their tents outside endeavouring to get people inside and from what I could see through the open doors from the street, I didn't need much encouragement! I managed to get to some really good jazz clubs with no nonsense attached, the best one being Pete Fountains French Quarter Inn. Al Hirt the great Dixieland trumpeter was there at ' Dans Pier 600' but it was temporarily closed probably due to the fact that he was on tour. I had seen him in Basin St.East in New York with Sarah Vaughan so I didn't mind missing him on his home ground. I left New Orleans after a stay of four days on June 13th, taking the 10pm train for Loredo,Texas. I had to change trains at San Antonio and arrived there at about 12 p.m. the next day. The part of Texas that I saw by daylight was not at all what I expected being very green and fertile with woods etc. whereas I had expected it to be dry, brown and barren. My train to Loredo did not leave San Antonio until 1.30 p.m. so I had time to look around the town. The architecture had a distinctly Mexican 'flavour' to it and I was informed by my taxi driver that about 1/3 of the population were Mexican. San Antonio is of course the site of the 'Alamo' and the majority of the fort was still intact and what wasn't had been restored to as near the original as possible. The overall picture was a little incongruous however, due to the fact that the huge skyscrapers & apartment blocks had been constructed all around it. Inside the fort they had all sorts of relics which they professed to be genuine e.g. all of Davy Crockett's clothes, Jim Booth's knife etc. But I really didn't have enough time to examine all this.
I now caught a train, which was to take me all the way to Monterrey, Mexico. We arrived at the border about 6pm. Having passed through a part of Texas which was as I had pictured it. One thing I did not see was cattle however and still less any cowboys. This sort of thing can only be seen in the northern part of Texas I am told but even then a cowboy is a very rare sight as the herding is now done by helicopter or car!
The formalities at the frontier were soon dispensed with and we got going into Mexico. It was now almost dark but the terrain seemed to be just the same as southern Texas, the cactus being a little more profuse though.
I arrived in Monterrey about 11 pm. Having enjoyed a tremendous five course Mexican dinner on the train for about $1.75, which suited my now rapidly diminishing stockpile very well. I checked in at the Hotel San Francisco on Plaza Zaragoza, a very pleasant place with ornamental pool & all varieties of potted plants in the lobby. I had a really nice room overlooking the Plaza for the princely sum of $2 a day which after U.S.A. tariffs was terrific.
I stayed in Monterrey, which was a most pleasant city, surrounded by mountains the tops of which seemed always to be lost in the clouds for 3 days. During this time I managed to see most of the interesting places, though not all.
Earlier I had experienced the definite inconvenience of not having one's own car though now this fact became much more apparent. The main reason is that many of the attractions of any city lie in its suburbs & in the U.S.A., it was often possible to grab a local bus to these spots but in Mexico, this is not such a simple matter. Often there are no buses to these places since they are almost exclusively tourist attractions & if there are it's quite a task to sort the right one out and make yourself understood into the bargain.
Getting back to Monterrey, it seemed to me to be a fairly good place in which to spend one's first few days in Mexico since the people seem quite used to Americans or other white men & many of them speak English. My next port of call was the town of Saltillo, a trip of about 1 &1/2 hrs by bus through beautiful mountains, which were part of the Sierra Madre Occidental range. At Saltillo I just spent a couple of hours while waiting for my bus connection to San Luis Potosi. It seemed a pleasant enough little town with its huge baroque cathedral being its focal point. San Louis Potosi was quite a large city, its population being somewhere in the region of 125,000 people. One of the main industries of this city was mining and smelting though it was by no means a grimy industrial type town. I stayed at the Hotel Napoles, which was none too good really, but I was only staying overnight so it didn't really matter. There was quite a good market in town specialising in rebozos ( shawls) which were all colours of the rainbow. They also sold a weird tasting cheese called tuma which is made from prickly pears.
From San Luis Potosi I travelled to Guadalajara a distance of some seven hours by bus. I had previously been taking first class buses but out of curiosity, I took a second-class bus for this trip. The second-class buses are considerably cheaper and I had often wondered what the real difference was, well now I knew. Firstly, they are pretty dirty & one gets the feeling when sitting there that one is providing a good solid meal for whatever species of insect happens to be in the vicinity. Secondly, these buses are used by the poorer type of Mexican only and while they are undoubtedly goodhearted and pleasant people it does not take too much observation to see that some of them have not had their heads under water since their baptism. Thirdly, they seldom seem to travel alone, that is to say they invariably seem to be transporting some animal be it chickens, dogs, birds & so I am told even pigs. Another fact is that the bus is always stopping at some God-forsaken spot either to let these people off or take others on. On this particular trip, the country passed through was often mountainous but also often barren deserted mesa. This was sandy, stony ground, the only plant life being an occasional tree but mostly cactus. The amazing thing to me was that these people would get off the bus somewhere in the middle of this nothingness & commence to walk quite blithely, complete with all their packets and bundles, off into this deserted terrain and for the life of me I couldn't see a house , hut, shack or habitation of any kind for miles. After seeing this happening a few times I began to think that they must live in holes in the ground but the fact probably was that they may have had to walk four or five miles to the road on which the bus travelled. They certainly seemed a hardy people for it was often teeming down with rain when they alighted from the bus but they seemed to not mind in the slightest though their sombreros were as good as an umbrella really.
Guadalajara, my destination, is the next largest city after the capital and I enjoyed visiting this city more than any other so far. It was very well laid out with many spacious parks and squares, almost all with lovely fountains & wonderful displays of flowers. Its buildings ranged from the very old, as typified by its lovely cathedral and national palace, to the very modern as shown in its new bank buildings & apartment blocks. Probably the most outstanding example of modern architecture in the city was a very impressive market. This was a vast structure on three different levels, being of reinforced concrete with brick in filling panels but with the columns and slabs having no finish at all. The roof was a series of inverted 'umbrellas' with cantilevered overhangs. So I was told, this design was submitted by an architectural student as his thesis and was so highly thought of that it was constructed.
At two or three different buildings in town were examples of the work of Orozco in the form of murals. These were very vivid, awesome and sometimes hideous but always terribly impressive works. They were all depicting one or other event or time in Mexican history and usually featured men such as Cortes, Hidalgo, Juarez, Morells etc. One of these buildings was now an orphanage but one part of it was kept for public inspection and in this hall the whole of the ceiling and walls was covered by Orozco Murals. It is said that only the Sistine Chapel in the Vatican is work of similar stature & magnitude in existence. One evening I went out to witness one of the local so-called sports. This was a cock-fighting match, which took place in a large barn-type structure on the outskirts of town. There was a circular sand-filled arena of about 30 feet in diameter in which the bouts took place. For about twenty minutes prior to each fight the bookmakers would walk around shouting out whatever odds they were willing to give, getting more excited and voluble every minute. The cocks were allowed to strut around for a short while to show their fettle but never allowed to come into contact with each other. Just before they were let loose at each other they were aggravated by their keepers presumably to get them fighting mad. This was done firstly by facing them with another old beat-up looking cock that they would both in turn take a few swings at. The second way of annoying them was to pluck feathers from their throats though this also served the purpose of exposing their throats to the slashes of the other cocks feet & beak& thereby shortening the encounter. Finally they were allowed to 'have –at' each other though not before the last bit of betting had been done. The actual combat only lasted one or two minutes as all that as needed was one good blow from one or the other. The manner of fighting was briefly this; to one leg of each cock, a steel, two-pronged spike was bound. It was bound to the back of the leg and the idea was that each cock would fly at the other, feet first with the throat being the target. This sounds as though both cocks would keep clashing until one or other collapsed but it was not as simple as that. Either by nature or by training they would engage each other rather like a couple of boxers, for when one would fly at the other with feet thrashing, its opponent would duck underneath him as he was in flight and attempt to pin him down before he had regained his balance again. This could only go on for a short time for within about four or five passes of this type, one would be bound to nail the other. Actually, what with flying feathers and clouds of dust stirred up by their thrashing wings & feet it was pretty hard to see who was getting the worst of it. As a spectacle, I thought it was pretty lousy and the most sickening part of it was when one had killed the other he was allowed to stand over his defeated opponent and proceed to peck out his eyes etc. I just saw two bouts to see if they would be virtually the same and as they were, I left with no desire to see another cockfight. Guadalajara had an interesting suburb called Ilequepaque where all sort of glassware and pottery was manufactured. I never managed to get out to see this but I had already seen this sort of thing being done in England.
From Guadalajara I had the choice of either going on to Mexico City or going out to Manzanillo on the coast for a few days first. As I had not arranged to meet Lionel Cleary and friend until somewhere around the 26th I decided to spend a few days out at Mazanillo. This was some seven and a half hours away by bus and was quite an interesting ride. For the majority of the time in the bus I travelled through mountainous country and then dropped right down to sea level. As it dropped down from some 3000 ft, the change in climate could really be seen and felt. The temperature rose from a comfortable 60 degrees until it was into the 80s and as the weather was very thundery & humid it became uncomfortable and when Manzanillo was reached it was rather like stepping into a steam bath. The climate here was semi-tropical with coconut palms growing almost at water's edge and a little further inland could be seen orange groves, banana, and mango and papaya trees. Coffee is also grown here. One thing I noticed on my way down to
Manzanillo was the fact that the farmers had orchards of cactus and a similar plant to cactus. Tequila and other native liquors are made from cactus & I suppose that cactus like any other plant always develops richer and fuller when cultivated.
Manzanillo itself was a very quiet place, strictly a one-horse town. It had quite a good harbour, which could be used by fairly large vessels. Apart from one or two oil tankers that were there, there were also some frigates from the Mexican Navy. Apparently this was the harbour which the Spaniards sailed from when off to conquer the Philippines. Fishing was quite an attraction there & the fishing was supposed to be the best along this part of the coast. The town lay at one end of a seven mile long curving coastal road and for the whole of this seven-miles, there was one long beach. At the other end of the coastal road was the village of Santiago, which was really just 3 or 4 hotels and a few houses. All in all it was just the place in which to spend a few quiet lazy days, doing nothing but eating, drinking & laying in the sun and that is exactly what I did.
From Manzanillo I took a bus straight through to Mexico City, a trip of some 16 hours. I would like to have been able to stop off and see Morelia, which I had heard, was a very interesting city but I had to content myself with a quick glimpse of it while passing through. I arrived in Mexico City on June 26th about 10.00 am and checked in at the Hotel Texas on Calle Ignacio Mariscal. The day after my arrival Lionel Clery and a friend named Raphael Hilt arrived from California Altogether I stayed nine days in Mexico City and during this time not only spent time sightseeing but visited Mexican friends which Lionel and Ralph had. This was very interesting for as alone I doubt that I would have had the opportunity to get to Mexican people's homes. They were a very pleasant couple and the night before we left town we attended a very good party at their place.
Mexico City itself was quite a lovely city with wide spacious avenues, parks and squares. Now it is a very modern and cosmopolitan city but many sections are of an older type of construction, mostly colonial in style and very interesting. Squalor was, of course, much in evidence, as in any other part of Mexico and of course as in any other large city. The modern architecture I found interesting, particularly the concrete work as much of it was adventurous by our standards. We visited the national museum in which is housed the ancient Aztec calendar stone and very many other interesting exhibits including some model reconstructions of ancient pyramids to be found in various parts of the country. Some of the other places we visited were Chapultepec Castle, the pyramids of San Juan Testihnacan and another archaeological site at Tenayuca. We also visited the nearby town of Toluca on market day and bought some serapes etc. There were, of course, many other interesting places, which we could have visited but never seemed to get around to.
We left Mexico City on July 3rd. And went south to Oaxaca. This town lies some 300 miles south of Mexico City and lies in the lovely fertile valley. We stayed there for two days mainly in order to visit the archaeological sites of Monte Alban and Mitla. Monte Alban was particularly interesting as it is more complete than very many other sites. When visiting the places one is always besieged by dozen of Indians trying to sell various items, mostly of the archaeological nature and often very interesting. These items are mostly small figurines, ceramic heads and various bits of pottery. They are mostly genuine antiquities, which have been discovered near these sites but are sometimes home-made efforts but so skilfully made that only an expert can differentiate between them. They pester you from the time you arrive until the time you leave which gets a bit tiresome but is interesting to look at the stuff and a lot of fun bargaining with them if you do see something you fancy. Oaxaca itself was a pleasant enough, rather colonial type city and it was pleasant to sit at a table of one of the restaurants on the plaza and watch the townsfolk go by while sipping a beer. After two days in Oaxaca we headed south again our destination this time being San Cristobel de las Casas in the state of Chiapas. This is again about 300 miles south of Oaxaca and at an elevation of about 5000 feet. Mexico City is of course higher than this being at an elevation of some 7000 feet but the climate seemed roughly the same. On this leg of the journey we ran foul of the weather and it poured down all day. The whole journey was over mountainous country and it was fascinating to see either the alleys or the peaks covered with dewy rain clouds and then watch them come towards and finally engulf you. For lunch we stopped at the town of Tehmantepec which is renowned for its beautiful women, so obviously, this was reason enough to visit it. These women are of a very large and impressive stature, appearing to be easily six feet tall in many cases. Themselves, physically that is, they did not appear to be particularly beautiful but their native costume certainly was. The garments, particularly the blouses and robozos (shawls) were of very colourful woven fabrics and coupled with the fact that these large women carried themselves very well, they certainly were impressive. After lunch we went out to the town of Salina Cruz, which is situated on the coast at a distance of about 12 miles from Tehuantepec. The climate down at sea level is semi-tropical and of course very hot and humid but it is quite a sight to drive along and see banana, peach, mango, lime and lemon and orange trees etc. all growing in profusion. Salina Cruz did not appear to offer much, being mainly an oil port so we continued our drive south. By about 9.30 pm we arrived at Tuxla Gutierrez which is the next large town before San Cristobal. Here we had dinner in a very pleasant restaurant overlooking the town's pleasant zocalo (square) and then after searching in vain for the hotel at which we had planned to stay we decided to press on and get to San Cristobal the same night. The drive from Tuxla to San C. is said to be a very beautiful one as the road climbs from 1000 to 5000 feet between these two towns. At this time of night, plus the fact that it was still teeming down with rain, did not enable us to see a thing but the road, though sometime in the future I shall no doubt travel down this road again if only to return to Mexico City. This leg of the journey was fairly uneventful then, our only thought being of a good sleep as soon as possible. The only thing of any interest that happened as far as I can recall was that upon making one of the many turns in the road we ran slap into a skunk so we had to endure the terrible stink of the thing for the rest of the journey. We finally arrived in San Cristobal de las Casas about 12.30 p.m. and checked in at Hotel Posada de San Cristobal.
The town itself is fairly large and sprawling with some real gems of houses tucked away in its back streets. One of the great attractions of this town is that it is the market and central meeting place for all of the various tribes of Indians who live and work in the surrounding villages. There are quite a number of these different committees living in the surrounding area, some of them being Zinacantecan,Tenejapan,Chamulas and Huixtecos (Mixteca). All of them have their own individual costume and some of them are wonderfully colourful though unfortunately they are now tending to become 'western' in dress and instead of wearing native trousers, may sometimes be seen wearing jeans. Most of our time was spent just wandering around town and watching the people, particularly at the market. Almost all of our days began by going down to the market and eating a couple of pieces of pineapple for breakfast and chatting to whatever people we knew particularly a few Indians which Lionel or Ralph knew from years past. In the late afternoons we would go up to Na-Bolom the house of Dr. Frans Blom and his wife Gertrude Duby. , who were always referred to as Pancho and Trudy. This couple, he being originally Danish and she Swiss, had an enormous house which was part museum and part study centre for the many archaeological students from American Universities who came down to Mexico during the summer months to do field studies. In addition to these students and professors, there would always be people at the house who were just touring Mexico and Central America and who had dropped in to pay their respects, so there was always some interesting people to chat to and thereby pass a very pleasant afternoon in the library before a roaring log fire. After some two weeks in San Cristobal we decided to try our luck at touring Guatemala. We decided against taking the car sine we had heard that the roads were, for the most part, unpaved and would therefore knock hell out of any car. We set out from San Cristobal by bus for the Mexico-Guatemalan border some 80 miles south. On the bus was another American chap also going for a look at Guatemala so we teamed up. His name was Bob Horwich from New Jersey and was a Rutgers student on holiday. At the frontier, we discovered to our annoyance that we were requested to pay some additional charges to cross the border. We had already paid more than enough for our visas so this did not please us too much especially when we discovered that these charges were by virtue of the fact that that day was a holiday but best of all, a French holiday, it being Bastille Day. We said to the border officials that we would expect to find them celebrating St Patrick's Day on the way back. Having crossed the border we took a bus, or apology for a bus, which God and its sick engine willing would take us to the town of Quetzaltenango.
The travelogue ends there, abruptly, and we hear his voice no more.
But hopefully, this will bring a sense of the kind, cultured and fun-loving man he was to those who never met him whilst those of us who do remember him will have a tangible record of this part of his life.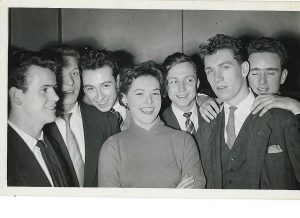 This may have been the last time Billy ( 5th from right, back row) and his friends were together before his departure. We have been provided with the date as 1960.
William Michael Whittle
Born 10 September 1933. Died 24 April 1970.