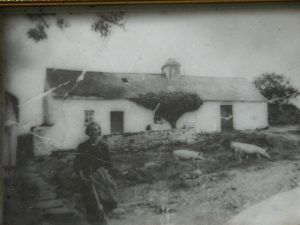 In true McClarey fashion, Starting Out-the first book in the trilogy will be written last.
Long Road, Many Turnings the  Collins-McCann-West family saga, will now become the half-way marker. After the first book had been published a return visit to the small Irish town of Drimoleague in West Cork gave inspiration for a prequel, which is rich in mystery, tragedy and hope.
This is a creative record of my experience, which forms the trigger for  Starting Out.
( Names have been changed)
 Summer 2017
It all began in my cousin's house in Drimoleague, with a roll of surplus wallpaper, it's back covered with lines and names and dates and crossings out, annotated in different colours, laid carefully over the table, under the window to catch the best light. Eagerly, perhaps even somewhat rudely, I leant right across as soon as I spotted her name- Catherine Callaghan. Mistakenly, it had her and someone called Edward recorded as the children of a woman called Marie, whom I'm thought was one of Granny's sisters.
'No' I shook my head, confident but trying to be more gentle, hoping my earlier rudeness had been overlooked ' I'm sure that's wrong! We need to change that one.'
'Granny was Marie's sister, so she needs to be moved to the line above.  No idea who Edward is though.'
It was when I was asked for my family tree that the confusion grew, mixing our family names, relationships and connections to the wallpaper tree. A third tree was brought to the table, an older version, and we became a copse, with straggling branches, trying to find connecting pathways in between.
We ran our fingers over the names, some familiar, others newly discovered, while we also got to know each other over tea and homemade cake. It was a best china event and rightly so. My husband sat back, enjoying the hospitality, comfortable in an armchair by the door. He preferred the sunshine on the rich green landscape outside, rather than the growing copse, which was threatening to reach plantation size, indoors.
The room had filled with a flurry of connections.  I suspected that quite a lot of shouting would have taken place in those families. They descended on us like friendly, chatty ghosts and when we couldn't see our tree branches anymore we agreed that the four of us should decamp to meet our ninety-year-old cousin, who was living alone on the homestead where Granny was born.
We headed out in the hire car through cheerful, pleasure-giving sunshine, our mood reflecting the day. The route narrowed as we travelled out of town and I was entranced by the heavy hedgerows laden with montbretia and fuchsia. The vibrant clashing of orange and purple brightened the roadside and my heart was beating fast anticipating the conversation ahead and excited by the prospect of the approaching visit.
We turned into a narrow lane, an unmade road with a line of grass running down the centre, bumping and jolting slowly before coming to an abrupt stop at an informal opening, which would have been a front farmyard. I tumbled out of the back door, and there it was – a two storey whitewashed wreck of a farmhouse. Faded and peeling paint revealed the original red of the battered wooden door, itself tilting ajar just enough to appear to be inviting in the weather and small creatures.
All the others disappeared into a more modern farmhouse just to the left of the old building, which was the home of the elderly cousin, Joe, living alone within yards of where he was born.
I stood for a moment longer in the hot sunshine, smelling the hay and a soft sweet mixture of farmyard and honeysuckle. This was how it must have been for Granny, living in this remote, beautiful place with her brothers and sisters. She had often told me how she used to run home from school, barefoot, over these very fields They were beautiful but surely too rugged for a child's small foot.
Turning my back on the warmth of the day I walked eagerly through the rusting iron gate up the path and into the house, my eyes taking a moment to get used to the shade inside. I was all set to ask for Joe's memories, hoping to learn how the family had lived.
Gerry and Eileen had arranged chairs so we could face the old man whilst asking questions about the family. We were introduced. Loudly. Several times. Then my husband, struggling with the unfamiliar accent, went outside to take photos, whilst I eagerly took the offered chair.
The old man greeted me warmly, taking my sweaty anxious hand in his, which was reassuringly dry and no less firm than my own. Unfazed by all the attention, he seemed content to answer the relentless questions we threw at him. Many dusty photographs, newspaper cuttings and faded Mass cards were presented.
Old people, young people, American people, but not a glimpse of Granny.
'So,' I asked, during a brief lull in conversation,' I'd really like to know how many brothers and sisters she had.' I looked up enquiringly, seeking approval from Gerry and Eileen, they knew him well and I didn't want to be pushy.
'That's Catherine Callaghan.' Gerry clarified, I felt that was my permission granted.
'They were all born here, in that old house across the yard, every one of them, like me.'
'Do you know how many were born there? Granny and who else?'
'Well there was Marie, the eldest, then ….' and he reeled off a list of names, none of whom sounded familiar to me, finishing with 'Johnnie, he went to America and became a millionaire, so did Marie of course'
'What, become a millionaire?'
'Ah no, she married a police chief, in Milwaukee.  A widower with a son. Edward I think they called him.' A chill quivered inside my gut as I heard that name again I listened ever more closely to Marie's story now.
'Came back a couple of times. I remember my uncle took her in the horse and cart to the station in the bad snow, they thought she might not get back at all. It was very unusual to return in those days, don't know why she did.'
'But what about Granny, Catherine, why did she leave?'
'Ah well, there wasn't room for her see, when my father married and brought his wife into the house. That was 1916 and the newlyweds would have to run the farm and farmhouse and look after the old people, no more room, so off she had to go. It was a great chance for her, an opportunity we would call it.'
I did a quick calculation. She was fifteen or sixteen, her year of birth is unclear but I think it's 1900. How frightened she must have felt, leaving this tight-knit community and making her way alone to London, two years before the end of the war.
Gerry got to his feet, grimacing as I heard his knees creak, I saw him stoop over a drawer stuffed with what appeared to be official documents.
Joe didn't seem to be tiring, but still, I worried about him. 'Would he want a cup of tea?' I asked, hearing my voice sound hard and scratchy, broken glass amid the velvet soft West Cork tones around us.
I was reminded not to step over the boundaries. The old man had been looking after himself for many years now and no one would suggest going into the kitchen.
I was getting frustrated. No more information was forthcoming and although it was fascinating and endlessly kind, I preferred to be outside looking at the landscape and feeling her presence in the warm soft air.
So I wandered around outside, joining my husband, letting the long grass pleasantly brush against my bare calves. We found ourselves talking quietly, as though in a church, calm and unperturbed by anything we had heard.
Then Gerry came towards us, stepping cautiously over the rutted yard; a messenger, with tidings in his hand.' Look ye now at this Theresa, ye'll read something of your granny here.'
Eagerly I took the offered document. It appeared to be a copy of the 1901 census.
Carefully completed in elegant handwriting, by "an enumerator of the baroncy", a list of those present in the house that night.
My eyes were drawn to the last entry Caty Riley granddaughter 6 months
Looking up at Gerry, my eyes asked "what does this mean?" I had no words.
'I think your granny was a baby born into this family. A child of one of their own girls. Which one we wouldn't be sure now and why they gave her the name of Riley, maybe they thought the girl would marry the father.'
……..That was the first step along an unexpected road.Leading me to America and back again… Would you like to start reading the trilogy now?  Just click one of the links on the Long Road, Many Turnings page.  Its paperback or ebook, you choose!
Summer 2018.
Now Ive learned so much more about my ancestors, my great grandmother and her much loved younger brother in particular. I've found I have relatives in Milwaukee who have provided me with even more surprising information about the family, I can't wait any longer to develop the story. I will disappear for a while but do keep checking, I'll be back with more later.