Mini heatwaves, on dates not predicted by the met office, gave us beach days and picnic opportunities and the joy of what is now called 'wild swimming' (it used to be called swimming) and walks and outdoor music and reconnecting with friends.
I've put together some views of the summer and I hope they might keep you a little bit warm during the cold months ahead!
Staycation was imposed on us ,partly by concern around virus and partly because we wanted to see the people we cared about more than the faraway locations we dreamed about during lockdown. And didn't it turn out well? No airports,no queues, no delays( well only on the M4, M5, say,did you try the 303?!) and the exchange rate was pretty reliable too!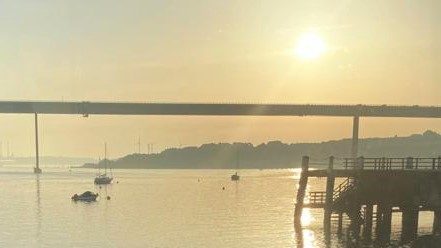 Overlooking Pembroke Dock
We spend a week in Wales, no rain, not too many crowds and great scenery. Most of the time admired ( as was the view above) through glasses darkly or otherwise with friends.
Bigbury Bay, my closest sea and the next best beach to Ireland!